We'll Wash Your Home
From head to toe!
Power Washing in Indianapolis
Indianapolis' Premier Power Washing Service
Heffernan's Power Washing is a family owned business and Indianapolis' #1 rated power washing service. We provide cleaning services that can cover every aspect of your property, from your driveway to your roof, no matter how dirty it is, we can make your property look new again! When working with us you can expect a fast quote right on our website, fast scheduling, meticulous detailed work and a 100% satisfaction guarantee! Get A Fast Quote today or reach out to our fabulous customer support team for a free consultation for your power washing and other cleaning needs.
Our Complete Exterior Cleaning Services
Power washing is the easiest way to increase your homes curb appeal. In no time our power washing service can transform the look of your home. You can count on our staff for safe and effective power washing.
Your home won't look spotless until a proper window cleaning is finished, and we have the professionals who can do the job right. We have the equipment and training necessary to keep your windows looking their best.
Cleaning gutters is an important part of regular home maintenance. Whether you're in need of a one-time cleaning or are looking for a yearly maintenance package, we're here to keep your home safe from water damage.
Is your home looking weathered and dirty? It's time to give your home a bath! We can provide soft house washing for your home. We use powerful cleaning detergents, with hot water to rid any grime from your home. We can do all of this safely with low pressure, ensuring no damage is done to your home.
Using a custom selected detergent, and zero water pressure, our roof washing is a safe, effective way of cleaning delicate shingles or tiles, while also preventing algae from re-growing. We are Indianapolis' #1 rated power washing company but we pride ourselves on our superior soft washing services.
Is your old deck beginning to show its age? Are you thinking about replacement? First consider bringing your old deck back to life with the variety of high-quality deck renovation options offered. We can power wash away years of damage and re-stain or paint your deck making it look new again!
Voted Best Power Washing In Indianapolis 2019
100+ 5 Star Google Reviews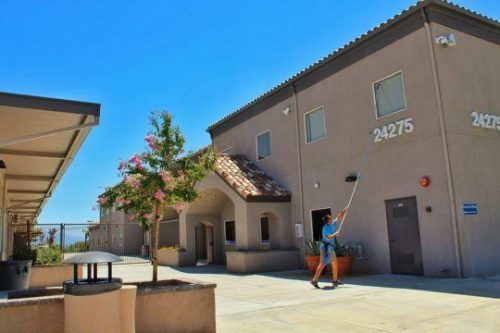 Hear From Our Happy Clients
We Hold a 4.9 Star average rating of over 400 reviews online!
Brian Christopher
Indianapolis, IN
We had both the roof and siding cleaned due to mold. The power washing crew arrived right on time and were the friendliest most polite group I've ever hired. They explained what they were going to do and completed the job in a timely manner. The house looks wonderful. The results are very dramatic. The price is very reasonable. I recommend them highly.
Lori Ecker
Indianapolis, IN
I heard about Heffernans through a neighbor. They called me back immediately and scheduled me right away. We have used them solely for gutter cleaning thus far, but they were eager to have our business even for a small project and were prompt and dependable and competitively priced. I would recommend them to anyone, and I will consider their power washing as well!
Julia Hittinger
Indianapolis, IN
I had windows at my private Montessori school, REVITALIZED by their team. Maintaining a clean and well-maintained facility is obviously very important to me for the health of the children and my staff. The gentleman who performed the services were prompt, accommodating, respectful, and friendly, not to mention, productive. I plan to reenlist their services again.
What You'll Get With Our Indianapolis Power Washing Services
Get A Fast Quote For Any Service
The Fastest & Most Accurate Quote You've Ever Received!