McCordsville IN Gutter Guard Installation Service
Top Rated
Gutter Guard Installation - Now in McCordsville IN
We have over 1000+ Reviews Between Google, Facebook, Angi and Yelp.
McCordsville IN's Premier Gutter Guard Installation Service
Gutter guards are essential in McCordsville IN for keeping your home secure from water harm. Heffernan's Home Services provides top-tier Gutter Guard Installation Service in McCordsville IN. Gutters may have evolved, but their core functionality remains the same. Choose Heffernan's Home Services in McCordsville IN, along with neighboring cities, for an advanced and tailored approach to gutter care.

Heffernan's Home Services offers Top Power Washing Services in New Palestine, McCordsville, Greenwood, Noblesville, Fortville, and the surrounding areas in Indiana.
Safeguard Your McCordsville IN Home
with Our Gutter Guard Installation
In McCordsville IN, the heavy rain and snowfall make rain gutters a necessity for every home. Without these, even homes with good roofs can experience water damage. If gutters become blocked, water overflows can cause serious issues.
Heffernan's Home Services in McCordsville IN offers gutter guards to keep gutters clean, plus other services like power washing, deck staining, roof cleaning, gutter cleaning, pressure washing, and house washing.
Top Rated Gutter Guard Installation Service: Serving McCordsville IN
100+ 5 Star Google Reviews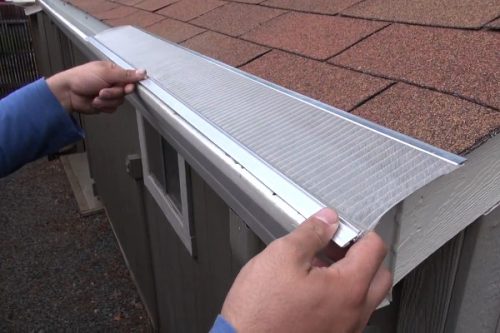 Real Reviews From Happy Customers
WHAT Your
Neighbors
ARE SAYING
Gutter Guard Installation

IN

Timely, efficient, good work, for a really good price!

Joy Palmer
Gutter Guard Installation Indiana
Had a great experience with Heffernan's for my gutter cleaning and gutter guard installation. My technician was particularly awesome. I was at work and he ran in to some unforeseen issues (my gutters had been installed incorrectly by my home builder), yet took it upon himself to go above and beyond to solve the issue. We even noticed a few days later that he had even cleaned other hard to reach places of the house that he really didn't need to do. My girlfriend was home at the time and she said he was very pleasant and was also very friendly with our cat. I admittedly don't often take the time to write reviews online unless it was truly an exceptional service but this was exactly that. I'm sorry I can't remember his name at the moment but maybe Heffernan's sees this and can extend to him my gratitude. Just wanted to say thanks for the excellent service!

Justin Garrett
Gutter Guard Installation

in Indiana

Patrick is such a hard worker! He is competent, conscientious, knowledgeable, respectful. I will definitely hire them again. Their entire process was easy, from the initial inquiry through price quote and scheduling to the actual work. They know what they're doing.

Marcia Reller
Why McCordsville IN Homes Need Our Gutter Guard Installation Service?
For those in McCordsville IN, professional installation of gutter guards is an investment in peace of mind. With Heffernan's Home Services, a licensed, bonded, and insured company, you are financially protected. Our impeccable safety record speaks for itself, but should an accident occur, our insurance is there. We are proud of our customer satisfaction record and rigorous safety standards in McCordsville IN, ensuring your Gutter Guard Installation Service is handled flawlessly. Ready for worry-free protection? Call us today.
Explore Our 5 Star Services in McCordsville IN
What You'll Receive with Our Gutter Guard Installation in McCordsville IN
Frequently Asked Questions on Deck Staining in Indiana
Instant Quote for Gutter Guard Installation in McCordsville IN – It's Free!
The Quickest & Sharpest Gutter Guard Installation Evaluations in McCordsville, IN!