House Washing McCordsville IN
Top Rated
House Washing Company
We have over 1000+ Reviews Between Google, Facebook, Angi and Yelp.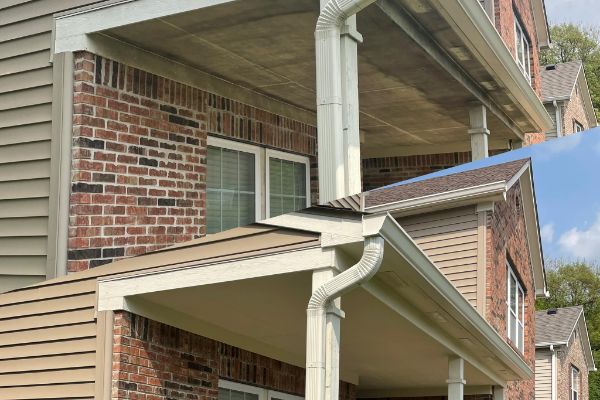 Get the best House Washing McCordsville IN
For many homeowners in House Washing McCordsville IN isn't a subject talked – or even thought – about often. While having a clean house is important, to 'clean house' usually brings to mind mopping the floors and dusting the shelves. Heffernan's Home Services offers House Washing McCordsville IN, Indianapolis, Franklin, Mooresville, Maxwell, Fountaintown, Danville, and the surrounding areas.
For those that have thought about washing the outside of their house, it can be a bit of a mystery as how to get started. Is it as simple as hooking up the hose and aiming it at the house? Are detergents needed? How do you protect your yard during the washing?
Luckily for the residents of Indiana, House washing is our expertise. You don't need to worry about researching anything about house washing – we have it covered. If you'd like to know a bit more about our methods and why our customers come back to us time and time again – just keep reading. We'll share some insider secrets with you.
Pressure Washing vs Soft Washing in Indiana
You've probably seen the term "pressure washing" pop up quite a bit if you've been researching House Washing McCordsville IN. One term you probably haven't seen as much, however, is "soft washing." Let's take a look at the differences between the two.
To pressure wash a house, you need specialized equipment that can shoot highly pressurized water. The nozzle should be focused on a tight area, which increases the pressure of the water.
Pressure washing can be a great tool when cleaning things such as concrete, patios and driveways. Without pressure washing, you'd have to get on your hands and knees and scrub or clean the small areas with a scrub brush.
Pressure washing is not great for house washing, however. If your house is made of wood, there's a possibility of splintering. One thing you definitely don't want is for water to be sprayed up under the siding and get water behind the siding which can cause damage. High pressure can also leave lines and marks all over your siding no matter what the material is.
Soft washing uses the same equipment, but cleans a bit differently. The pressure washer nozzle used sprays a much wider area – which means that the water isn't as highly pressurized.
While the water isn't highly pressurized, it sprays harder than your average garden hose. Soft washing helps to get your house clean and eliminates the risk of damage.
Because the pressure is lower than when full-on pressure washing, a few extras are needed such as specialized detergents and heated water.
Our House Washing McCordsville IN Method
While house washing may sound like an easy job, it's important to keep a few things in mind. Some things that make us unique to the Indiana house washing industry are:
Customized Approach – While not all homes look the same, they also aren't all made of the same materials. Different houses require different cleaning methods.
Bio-Degradable Detergents – Along with our customized approach comes customized detergents. Not all detergents work on all materials. We like to use bio degradable detergents so as not to pollute the environment.
Soft Washing – As previously mentioned, soft washing is our method of choice for your House Washing McCordsville IN needs. Soft washing not only makes your home spotless but also greatly decreases the risk of damage.
Expertise
The biggest reason to hire a house washing service is to take advantage of the expertise. It's taken years of experience to become experts in knowing how to wash each individual home. No matter what your home is made of, you can rest assured that we have experience washing it.
Vinyl – Areas around the windows and door frames must be washed carefully and a specialized solution used to avoid damage.
Stucco – This is such a delicate surface that a soft wash system must be used further away from the house.
Wood – Soft washing is especially important when dealing with wood, as high pressures could cause wood to splinter. We also take care to soft wash the wood before applying detergents.
Brick/Stone/Concrete – Since these materials are so porous, we soft wash them before applying detergents. If detergents are applied first, it can be impossible to fully rinse the detergent out.
Aluminum – Care must be taken as to the angle of the nozzle so that water does not become trapped under the panel overlaps. If the wrong detergent is used as well, the aluminum could become discolored.
If your home is made of a different material, don't hesitate to contact us. We have experience with plenty more types of homes, which has given us the expertise that our customers trust.
Why House Washing Is So Important
One question we've heard often is "Why even bother with house washing?" Let us answer this question for you.
Protection – It's imperative that your house be protected against fungus, mold, and algae. Not only are these things unsightly, but they like to trap water against the house. Trapped water means costly damage to your house's siding.
Home Restoration – One benefit of house washing is the pride it brings homeowners. If you enjoy spending time outside, wouldn't it be nice to have a beautiful view of your clean home?
Increased Curb Appeal – If you plan on selling your home in House Washing McCordsville IN is one of the most important things you can do. Houses that have been recently washed sell for more money than those that have not. The outside of your house is also what invites people in – so you want it to make a good impression on potential buyers.
Our Guarantee
Only at Heffernan's Home Services will you get a 1-year house washing guarantee on our service. We want our customers to be satisfied 110% with our services, which is why we're able to say we have so many repeat customers.
If there are any issues with the service and you're unsatisfied at all, we'll either fix the problem or you don't have to pay.
Best Rated House Washing McCordsville IN
100+ 5 Star Google Reviews
Our Complete Line Up Of 5 Star Services
What You'll Get With Our House Washing McCordsville IN Services
Get An Instant House Washing Quote For Free
The Fastest & Most Accurate House Washing McCordsville IN Quote You've Ever Received!