Window Cleaning Services for Fortville IN Homes
Fortville IN's Elite Window Cleaning Company
We have over 1000+ Reviews Between Google, Facebook, Angi and Yelp.
Your Best Option for Window Cleaning Services in Fortville IN
In Fortville IN, Window Cleaning is a task that's frequently underestimated. When done right, it's something you simply don't notice, but when your windows are dirty, it changes the entire appearance of your home or business. It's something that doesn't become a concern until it's a problem. Heffernan's Home Services offers Window Cleaning in Fortville IN, ensuring that your windows are spotless. Sunlight brings a sense of joy and well-being, but dirty windows can block this natural advantage. Windows, like any other aspect of your home or office, require regular maintenance. The main challenge is that most individuals don't know how to ensure that their windows are cleaned properly. The task is not as simple as it may appear.

Heffernan's Home Services offers Top Power Washing Services in New Palestine, McCordsville, Greenwood, Noblesville, Fortville, and the surrounding areas in Indiana.
Exclusive Window Cleaning Services in Fortville IN
For a truly spotless home or business, trust Heffernan's Home Services in Fortville IN for your window cleaning needs. Our company prides itself on hiring professional and personable staff members who are committed to doing the job right the first time. Understanding how essential clean windows are to your property, we focus on the vital details. Our punctual cleaners, equipped with all the required tools and cleaning materials, will take care of the task to your satisfaction.
Other services we offer with benefits include Power Washing, Deck Staining, Roof Cleaning, Gutter Cleaning, Gutter Guards, Pressure Washing, and House Washing.
Fortville IN's Professional Window Cleaning Team
Our high-quality employees work flexible hours because we'll want to get the job done at your convenience. We're a family business that's fully licensed and insured, so you have nothing to worry about when we clean your property. Window cleaning is a difficult job to do, so let the professionals at Heffernan's Home Services do the work for you. Contact our support staff when you're ready for your windows to look like they're brand new. We offer both Residential Window Cleaning and Commercial Window Cleaning Fortville IN Indiana as well as all surrounding areas!
Window Cleaning Techniques in Fortville IN
The complexities of window cleaning are well captured in the phrase "We don't do windows."
Detergents
At Heffernan's Home Services in Fortville IN, we employ detergents like DAWN dish soap that are known for their exceptional cleaning capabilities.
Equipment
Our high-quality equipment assures a clean like no other.
Trustworthiness
Our Fortville IN team values your comfort, working with precision and respect.
Experience the difference with Window Cleaning in Fortville IN by Heffernan's Home Services!
Commercial Window Cleaning in Fortville IN
A mere 7 seconds is all it takes to create a first impression, and reversing it can be a complex task.
What shapes the first impression of your business in Fortville IN? The exterior facade, not the interior arrangements or staff's grooming.
A study by Morpace found that half of potential customers might be put off by an unsightly exterior. Dirty windows might be causing you to lose 50% of your potential business.
In Fortville IN, Heffernan's Home Services provides premier window cleaning, enhancing your business's image, boosting your profits, and making your workplace sunnier.
Call Us Today For A Free Quote in Fortville IN
Heffernan's Home Services in Fortville IN hires top professionals for precision window cleaning, plus a 1-week rain warranty for added confidence!
We adapt to your timing, ensuring punctuality and professionalism at all times.
Our customers mean everything to us, and our 110% satisfaction guarantee proves it. If our Window Cleaning in Fortville IN isn't the best, you don't pay.
The Most Highly Rated Window Cleaning in
Fortville IN
100+ 5 Star Google Reviews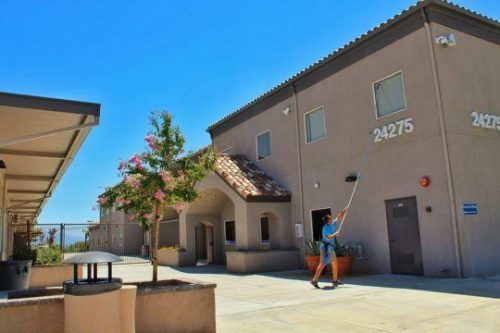 Real Reviews From Happy Customers
WHAT Your
Neighbors
ARE SAYING
Window Cleaning IN
Heffernan's always does a great job! I'm continually amazed by how clear things look through our windows once they are cleaned. We never think the windows are that dirty until we have them done. Highly recommend.

Koren
Window Cleaning
Indiana
The best part was unlike one of their competitors. I was an expected to take the screen's off of all the windows including second floor or higher. Even giving those screens a wipedown. Great stuff.

Stephen Yakaitis
Window Cleaning

in Indiana

Tried this company to complete a soft wash and window clean. Their tech. named Kendrick came as scheduled. He was excellent and did a wonderful job. He explained what he was doing and why along the way to keep us informed. We were very impressed. With all the problems today associated with service of all kinds this experience with Heffernans; and Kendrick was great! We will not hesitate to use them again!

Steve McGrath
Fortville IN's 5-Star Complete Window Cleaning Service Lineup
A World of Clean with Our Window Services in Fortville IN
Frequently Asked Questions on Deck Staining in Indiana
Free Instant Window Cleaning Quotes in Fortville IN
The Gold Standard of Speedy Window Cleaning Quotes in Fortville IN!