Window Cleaning Greenwood IN
Top Rated
Window Cleaning Company
We have over 1000+ Reviews Between Google, Facebook, Angi and Yelp.
Top Window Cleaning Greenwood IN Company
Window Cleaning Greenwood IN is often overlooked. When it's done right you simply don't notice it, but when your windows are dirty it suddenly makes all the difference in the world. It's something that doesn't occupy brain space until it becomes a problem. Heffernan's Home Services offers Window Cleaning Greenwood IN, Indianapolis, Carmel, Westfield, Fishers, Zionsville, New Palestine, and the surrounding areas.
Did you know that sunlight makes people feel happier? It's not just an emotional process but a physical one. Unfortunately, if your windows are dirty and streaked, you're not able to take advantage of the sunlight that would light up your home or business.
Windows, like everything else, require maintenance. Perhaps the biggest problem is that most people don't know where to start to make sure their windows are cleaned efficiently.  It's not as simple as you might think.
Premier Window Cleaning Greenwood IN Service
Your home won't look spotless until a proper window cleaning is finished, and Heffernan's Home Services has the professionals who can do the job right. Our Window Cleaning Greenwood IN company, is committed to hiring friendly and professional staff members who'll work hard to get the job done right the first time. We'll pay attention to the important details because we understand how important clean windows are to your home or business. The punctual cleaners on our staff will arrive with all the tools and products to do the job.
Professionally Trained Window Cleaning Greenwood IN
Our high-quality employees work flexible hours because we'll want to get the job done at your convenience. We're a family business that's fully licensed and insured, so you have nothing to worry about when we clean your property. Window cleaning is a difficult job to do, so let the professionals at Heffernan's Home Services do the work for you. Contact our support staff when you're ready for your windows to look like they're brand new. We offer both Residential Window Cleaning and Commercial Window Cleaning Greenwood IN Indiana as well as all surrounding areas!
Window Cleaning Greenwood IN Techniques
There's a reason why maids and cleaning services in old TV shows share the same catchphrase of "We don't do windows." It's because there are many small details that go into getting it right. If you don't have a handle on what you're doing, they can still look dirty even after you put in the hard work of cleaning them.
Detergents
While water quality is just one component, there's something we mix with the water that matters just as much – the detergents!
While there might be hundreds and hundreds of detergents out there that CLAIM they're rated for windows, there's no regulation on this phrase.
What really makes the difference in our process is the detergents we use. We use degreasing detergents such as DAWN dish soap which is great for cleaning beyond just in the kitchen. It works great at getting all the dirt and grime off your windows with ease.
We have a few trusted detergents that we've come to love and trust. We use them over and over again and we know from experience that they work wonders to provide crystal clear windows in the end.
Equipment
To clean your windows, we bring it a step beyond the typical service providers. We use only the best professional-grade equipment that can be bought. This ensures a good clean across multiple stories, both inside and out.
You don't have to worry about a thing – we'll bring it all: squeegees, soap, water filters, water fed poles, and safety extension ladders.
Trustworthiness
We realize that window cleaning isn't the same as any other service you might pick up. If you need your house or roof washed, it's something that is an exterior job only. However, because windows are clear – both sides need to be cleaned. This is of course something we offer, but it also means that somebody will have to enter your house. We make sure you're comfortable in multiple ways.
First, every single one of our employees isn't just a professional and hard worker, we only conduct business with good people. We're a tight knit group and just as we always have each other's backs, we make sure to have your back too.
Secondly, if you're a business considering our services, our employees are briefed about the importance of not disrupting workflow during active office hours. We're in and out, efficient, quiet, and we absolutely won't pose a visual distraction for your employees.
There's a reason we're the experts on Window Cleaning Greenwood IN and get calls over and over again!
Commercial Window Cleaning Greenwood IN
Psychologists have long since known that the human brain, upon meeting someone new for the first time, takes just 7 seconds to make a first impression. From that point, CHANGING the first impression is an uphill battle that can take quite a while.
Have you considered what the customer's first impression of your business will be? It's not how neatly organized your goods are, how kempt and well-dressed your employees are, or how spotless your floors are. Their first impression is made before they even enter the building.
Research company Morpace has even released a study that found that half of customers will reject the possibility of buying from a business which is physically unappealing. If your windows aren't spotless, you could be losing out on HALF of the business you could be doing.
If you own a business in Indiana, window cleaning is something that you can't afford to overlook. It will improve your customers' perception of your business, earn you a lot more money, and keep your employees happy by being able to bask in the sunlight.
Call Us Today For A Free Quote
Here at Heffernan's Home Services, we hire only the best professional workers we could find. Our staff has years of experience, so you can rest assured that your windows will be cleaned properly. We even offer our customers a 1-week rain warranty!
Our staff is able to work at all hours of the day. We want to make it as easy as possible for our customers, so no time is an inconvenience for us. You can expect our staff to be punctual and professional at all times.
Customers are our number one priority – so we offer a 110% satisfaction guarantee. If you don't agree that we offered you the best Window Cleaning Greenwood IN service available, you don't have to pay us.
Highest Rated Window Cleaning Greenwood IN
100+ 5 Star Google Reviews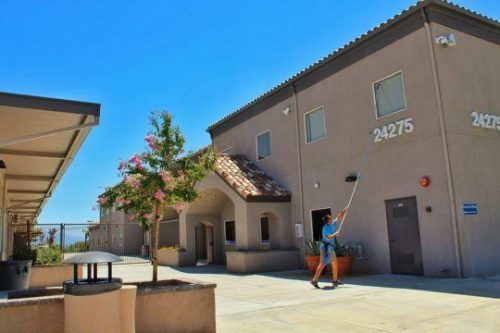 Our Complete Line Up Of 5 Star Services
What You'll Get With Our Window Cleaning Greenwood IN Services
Get An Instant Window Cleaning Quote For Free
The Fastest & Most Accurate Window Cleaning Greenwood IN Quote You've Ever Received!