Window Cleaning Services Designed for Noblesville IN
Noblesville IN's Top Window Cleaning Company
We have over 1000+ Reviews Between Google, Facebook, Angi and Yelp.
Exceptional Window Cleaning Services in Noblesville IN
Window Cleaning in Noblesville IN is often overshadowed by other maintenance tasks. When executed perfectly, it's invisible, but dirty windows can be a glaring issue. It's one of those things that don't become noticeable until they are a problem. Heffernan's Home Services offers Window Cleaning in Noblesville IN, ensuring your windows are clean and clear.

Sunlight's ability to uplift your mood is undeniable, but dirty windows can prevent you from enjoying this natural benefit. Windows, like everything else, require maintenance. However, most people don't know where to start to make sure their windows are cleaned efficiently. It's more complicated than it appears.
Heffernan's Home Services offers Top Power Washing Services in New Palestine, McCordsville, Greenwood, Noblesville, Fortville, and the surrounding areas in Indiana.
The Preferred Window Cleaning Service in Noblesville IN
The elegance of your property isn't complete without clean windows, and Heffernan's Home Services in Noblesville IN is here to ensure that. Our company insists on hiring friendly, professional staff who aim for perfection on their first attempt. Acknowledging the critical role of clean windows, we focus on every key detail. Our timely cleaning team, equipped with the necessary tools and products, will provide outstanding service.
Other services we offer with benefits include Power Washing, Deck Staining, Roof Cleaning, Gutter Cleaning, Gutter Guards, Pressure Washing, and House Washing.
Trained Experts Delivering Window Cleaning in Noblesville IN
Heffernan's Home Services in Noblesville IN prioritizes your convenience, with employees working flexible hours to fit your schedule. As a fully licensed and insured family enterprise, your tranquility is ensured. Allow our professionals to handle the intricate task of window cleaning. Reach out to us when you want your windows to shine anew. We offer both Residential and Commercial Window Cleaning in Noblesville IN and the surrounding areas.
Window Cleaning Techniques in Noblesville IN
The meticulous process of window cleaning has led to the statement, "We don't do windows."
Detergents
Our specialized detergents, like DAWN dish soap, are chosen for their excellent cleaning properties in Noblesville IN.
Equipment
We use the best tools to ensure a thorough clean both inside and outside.
Trustworthiness
In Noblesville IN, our professional team ensures a smooth and non-intrusive cleaning process.
Turn to Heffernan's Home Services for outstanding Window Cleaning in Noblesville IN!
Commercial Window Cleaning in Noblesville IN
The first impression takes only 7 seconds to form, and it's a significant challenge to alter it afterward.
The exterior look, not the inside organization or staff appearance, forms the initial impression of your Noblesville IN business.
Morpace's research reveals that 50% of customers might reject an unattractive business facade. This means your dirty windows might cost you a considerable part of your business.
Heffernan's Home Services in Noblesville IN ensures pristine window cleaning, improving the look of your business, increasing profits, and lighting up your workspace.
Call Us Today For A Free Quote in Noblesville IN
In Noblesville IN, Heffernan's Home Services recruits seasoned professionals to deliver exceptional window cleaning, offering a 1-week rain warranty!
We're flexible to your schedule, maintaining timeliness and professional conduct.
Customer satisfaction is paramount to us, backed by a 110% guarantee. If you're not pleased with our Window Cleaning in Noblesville IN, the service is free.
Noblesville IN's Favorite Window Cleaning Service
100+ 5 Star Google Reviews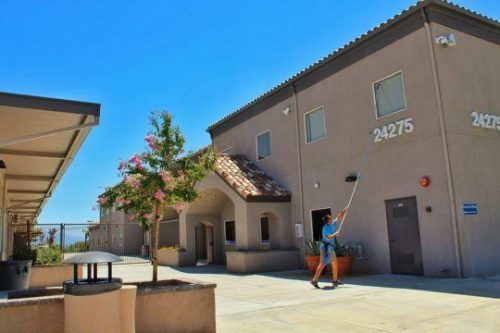 Real Reviews From Happy Customers
WHAT Your
Neighbors
ARE SAYING
Window Cleaning IN
Heffernan's always does a great job! I'm continually amazed by how clear things look through our windows once they are cleaned. We never think the windows are that dirty until we have them done. Highly recommend.

Koren
Window Cleaning
Indiana
The best part was unlike one of their competitors. I was an expected to take the screen's off of all the windows including second floor or higher. Even giving those screens a wipedown. Great stuff.

Stephen Yakaitis
Window Cleaning

in Indiana

Tried this company to complete a soft wash and window clean. Their tech. named Kendrick came as scheduled. He was excellent and did a wonderful job. He explained what he was doing and why along the way to keep us informed. We were very impressed. With all the problems today associated with service of all kinds this experience with Heffernans; and Kendrick was great! We will not hesitate to use them again!

Steve McGrath
Noblesville IN's Full Spectrum of 5-Star Window Cleaning Services
Excellence Guaranteed in Our Window Cleaning Services in Noblesville IN
Frequently Asked Questions on Deck Staining in Indiana
Get Noblesville IN's Instant Free Window Cleaning Quote
Accelerate Your Window Cleaning with Our Quick Quotes in Noblesville IN!